WiFi Connection Set up via SEMS App
1.
Once create the plant, click the WiFi set up button on App and click Next.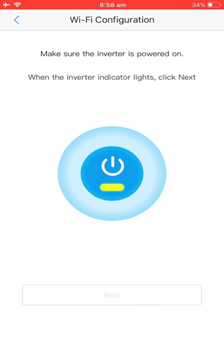 2.
Go back to mobile wifi setting and connect with inverter's Solar WiFi (password: 12345678), go back to
SEMS APP after the Solar WiFi is successful connected.then click NEXT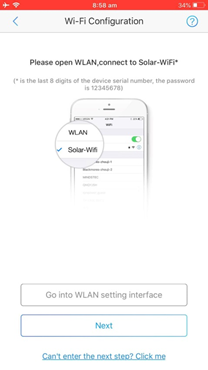 3.
Select customer home wifi from list and type in the home wifi password (password is case sensitive).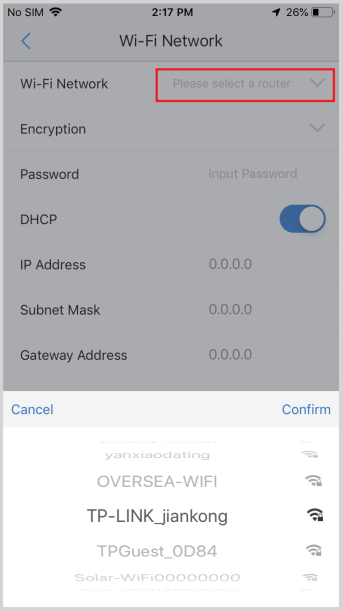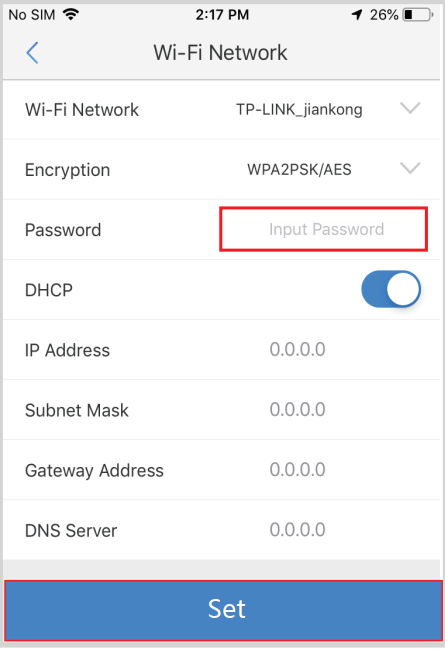 4.

Click SET,the notification window will pop up,click OK to finish the wifi connection on App.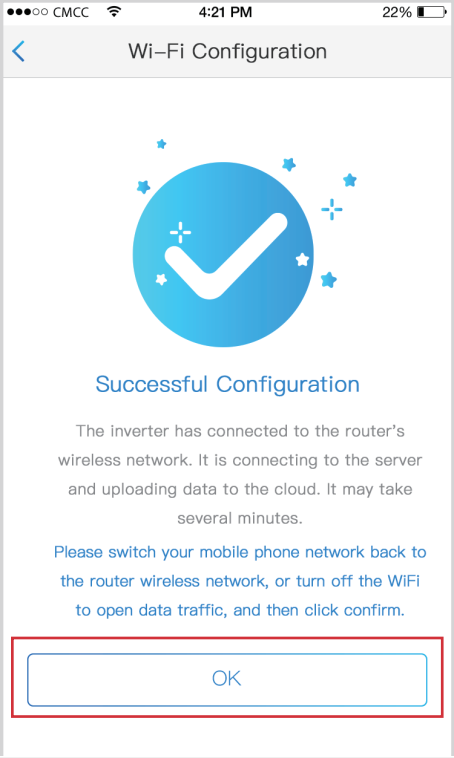 5.Customer can refer to the FAQ on App as well when they meet with other problems during the wifi connection.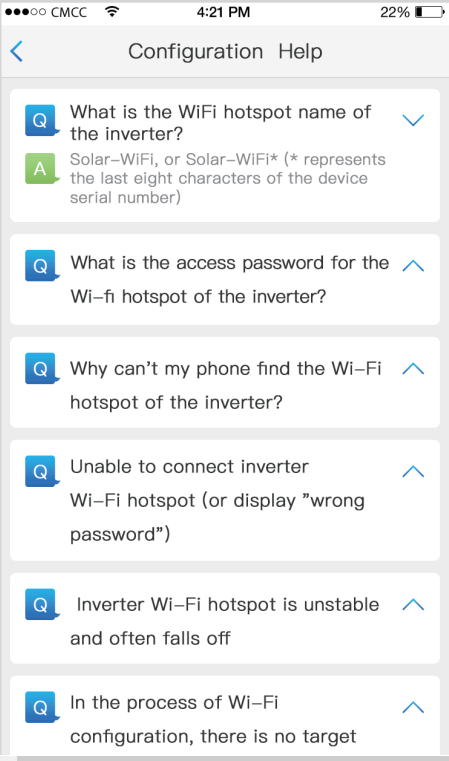 Notes: The amber light(WiFi LED) will be solid once wifi connection is successful.

Related Articles

WiFi Configuration via APP

Via APP Preparation a. Power Wi-F¡ inverter on; b. If you are configuring Wi-Fi inverter, make sure the yellow led on front cover is blinking; c. Power Wi-F¡ router on; d. Search for the keyword "SEMS Portal" from Google Play Store or Apple App ...

WiFi Problemen

Beste, U geeft aan dat er geen, of slechte, WiFi verbinding is tussen uw omvormer en uw modem/router. Zolang er op het scherm van de omvormer Normal of Generating staat dan heeft dit geen invloed op de productie of eventuele teruglevering aan uw ...

WiFi Configuration via Browser

Via Browser Preparation Power on the inverter. Make sure the router is turned on. Switch on the WLAN of laptop. 1. Look for the WiFi signal "Solar-WiFi*"(*means the last 8 characters of the inverter SN) in WLAN center and connect it. Password: ...

Goodwe SEMS Account Registration Guide – Via Laptop

* This guide is to help customer register account on new SEMS portal via laptop. * Customer needs to ensure inverter connected with home router in advance.The amber light will be solid on once wifi connection is successful. * Customer can refer to ...

Goodwe SEMS Account Registration Guide – APP version

* Please download the APP: SEMS Portal on your smart phone or tablet in advance. TO New Customer: 1. Click Register for creating the account > Select Owner and type in the E-mail together with password. 2. Tap Register > Submit to ...