SEMS Temporary no historical graph visible
Dear customer,
At the moment there is a bug in displaying the graph in SEMS. This bug affects the 'Generation & Income' view. Depending if you choose 'Day', 'Month' or 'Year' you will only see the current day, month or year. The previous period will not be shown. In below 2 examples you can see that for the month only June is visible, and for the day only the 21th June.

This issue does not affect all installations, but some.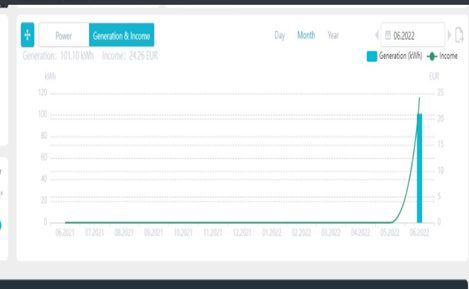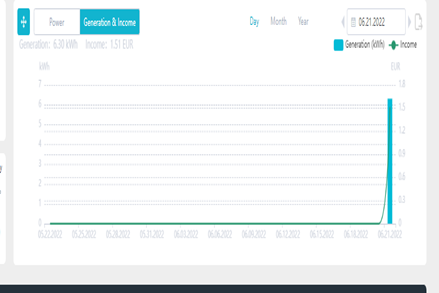 This issue will be solved at latest end-July.
Note: the historical 'Power'-curve can as usual be retrieved on a day basis. In below example the power curve of 13th June is displayed.

Kind regards,
GoodWe Benelux BV
Related Articles

Goodwe SEMS Account Registration Guide – APP version

* Please download the APP: SEMS Portal on your smart phone or tablet in advance. TO New Customer: 1. Click Register for creating the account > Select Owner and type in the E-mail together with password. 2. Tap Register > Submit to ...

Goodwe SEMS Account Registration Guide – Via Laptop

* This guide is to help customer register account on new SEMS portal via laptop. * Customer needs to ensure inverter connected with home router in advance.The amber light will be solid on once wifi connection is successful. * Customer can refer to ...

WiFi Connection Set up via SEMS App

1. Once create the plant, click the WiFi set up button on App and click Next. 2. Go back to mobile wifi setting and connect with inverter's Solar WiFi (password: 12345678), go back to SEMS APP after the Solar WiFi is successful ...

The storage plant does not show the Energy Flow Chart on SEMS Portal.

1;Check and confirm if the SN has been added into the Plant. Go to "Management"-->"Device"; 2;Click the plant which you are going to add the device,customer can see the details after clicking the plant: Click the "Add" button to proceed. 3;Fill in ...

Inverter offline on the SEMS PORTAL while the inverter's wifi has connected with the router.

1:check the WIFI indication LED light,if the light is solid on,please check the following: 1.1:Does the router has get a fluent connection with the internet,use the laptop to open a webpage with browser after connecting with the wifi router to see ...